BELIEVE IN YOUR DIGITAL MARKETING AGENCY AGAIN
Find out why over 200 SMEs in Singapore trust Ice Cube Marketing
The No.1 online marketing trend? It's Pay-to-Play, and nothing dries your budget up faster than the work of an amateur. We are a digital marketing agency in Singapore that specializes in using paid ads to grow your profits, not that of Google & Facebook's.
Unlike your typical search engine marketing or social media agency, we are all about turning your marketing from a cost center into a profit center. Put simply, we pay for ourselves. 85% of our clients see positive ROI after just 2-3 months of campaign optimization. Check out some of our clients below.
PROVEN TO WORK IN ALMOST
EVERY INDUSTRY IN SINGAPORE!
Bioskin
i.Poise Design
Rajan Chettiar LLC
QuickDesk
CAIC
Nancy Ho
Maskela
Do My Hair
Citibeauty
Knowledge Trail
Anyone can give you promises
We give you proof
Bioskin
i.Poise Design
Rajan Chettiar LLC
QuickDesk
CAIC
Nancy Ho
Maskela
Do My Hair
Citibeauty
Knowledge Trail
Integrated marketing agency
Interested in running Youtube ads? Instagram ads? Our team works with all major advertising platforms and ensures that your audiences see a coherent message across channels. We even set up retargeting to 'follow' the same user everywhere while keeping advertising costs low through fluid budget allocation to maximize overall ROI!
Performance marketing agency
Forget about SEO, blog posting or other random online marketing services that do not work. As an agency with arguably the strongest performance track records in Singapore, we know what it takes to get leads and customers. Don't take our word for it! Check out our myriads of testimonials and case studies and see the sales results for yourself.
PSG pre-approved vendor 
We have been made PSG pre-approved vendor for digital marketing solutions by the government, which came after many rounds of evaluation & screening. This is a testament to the rigor of our digital marketing process. As a result, our clients receive up to 70% subsidies for using our solutions. We also make it a point to achieve 3-5x ROI for them so they essentially enjoy the best of both worlds! You can learn more by visiting our PSG grants eligibility page or simply fill in the enquiry form below to learn more.  
million in annual adspend
If you are a Service-Based business with a strong sales team eager for a stream of qualified leads, We think we'd be a perfect fit for you.
SEM is more than just media buying. We are one of the few agencies that help with conversion rate optimization to boost your ROI.
From precise targeting to machine learning, we help you harness the full potential of Facebook advertising to bring sales results.
Local team that your business loves
You get to meet the digital marketing specialist & consultant handling your account who will be your point of contact throughout. You will not be left wondering if your work is outsourced to someone overseas who doesn't understand your local business & audience at all. From video to design to copywriting, we do it all inhouse. Our efficiency allows us to provide very affordable solutions for SMEs! Imagine having a team brainstorm a whole suite of unique, proven, intriguing and attention-grabbing ad angles for your business.
Google and Facebook partner
While most other marketers/agencies either focus only on campaign optimization or content creation, the key to a successful campaign lies in combining the science & art of marketing.
Science: As a Google & Facebook ads partner agency, we work with a partner manager to implement all the optimization best practices while making sure your ads are approved and running
Art: We are good in ads copywriting. To uphold our standards, we administer a copywriting test for all job candidates with a pass rate of 26%.
Can you trust someone who doesn't know how to do their own marketing? 70% of our clients know us through our digital presence. From content generation to lead generation, we walk the talk. Check out the webinar that we ran with Facebook detailing the latest digital marketing strategies for SMEs. Don't stop there. We give away tons of other tips at our blog and Youtube Channel. Whether or not we are a good fit, we hope to add value to you in your digital marketing journey. We share our secret recipes in our videos for free every week. Don't forget to subscribe!
what our clients have to say
Kumon Franchise
IceCube team is driven by performance. They took time to analyse our previous campaign and to understand our business and requirements as the first step of engagement. They were confident in achieving our targets and have delivered a
35% lower cost per lead
and helped us in recruiting more targeted potential franchisees. It was a collaborative and productive experience with IceCube and we are happy to recommend their service to any business who is interested in generating results
Jaye Chong
Division leader, Kumon Singapore
Samuel Yik, Managing Director

立奇成功的提升了我们网页参访人流量和逗留率,並且让我们排在数个搜索关键字的前端
Through optimization, Ice Cube Marketing successfully increased our webpages' traffic and viewing duration, as well as helped us get found on Google Search engine results page for numerous crucial keywords, thereby contributing to an increase in our sales.
Samuel Yik, Managing Director
DianXiaoEr.com.sg
CBRE Group

Ricky and Troy have been very responsive and helpful. They clearly have a good grasp and understanding of the digital marketing would I would recommend them for anyone that needs a leg up in this area.
Yvonne Chan
Head of Marketing Asia Pacific
5 STEPS TO FINALLY INCREASE SALES BY 20% WITH DIGITAL MARKETING
Remote Selling is the new Digital Marketing. Covid-19 has accelerated change in consumer behaviour. Learn more about ensuing opportunities to increase sales and overtake existing market leaders by switching up your approach.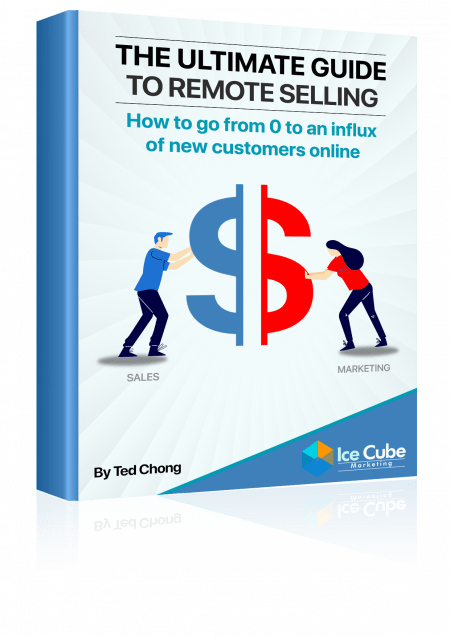 CLAIM YOUR NO-OBLIGATION FREE DIGITAL STRATEGY CONSULTATION
In the free consultation, find out the following for your business: